Piemonte
Lombardia
Swizterland
---
The Tourist Forum is the place to exchange or share experiences with other travellers.
Arona
mt. 212 asl - about 20.000 inhabitants.
Arona is an important commercial and tourist town, railway and road junction and lake port. You can join it by the highway A8 Milano-Laghi or by railway (Milano - Domodossola). Former Roman resort, during the Middle Aces it was the demain of the Visconti and later, from 1439 to 1797 of the Borromeo In the 13th century a castle was built, the remains of which can still be seen on the Rocca, which drops sheer to the lake.
It was the home of St. Carlo Borromeo (1538-84) whose huge brass and bronze statue rises behind the town, 23.40 m. high; It was built in 1697 by Bernardo Falconi and Siro Zanelli.
In the centre, visit the church of SS. Martiri originally Romanic with Baroque facade and Neoclassic interior, where a painting by Bergognone, 16th century glass windows and a painting by Palma the Younger (16th century)can be found; the Collegiate church of S. Maria, renaissance style, with a polyptych by Gaudenzio Ferrari (1511); the Manneristic church of Madonna di Piazza attributed to Pellegrino Tibaldi (1592), in the 17th century Beolchi Chapel and the 15th century Court Palace, with pointed-arch portico.
In Dagnente, the tombs of Felice Cavallotti, Paolo Troubetzkoy and Luigi Conconi. At the end of May, beginning of June there is the Lake Maggiore Trade Fair. In Arona Lake Maggiore Boat Service.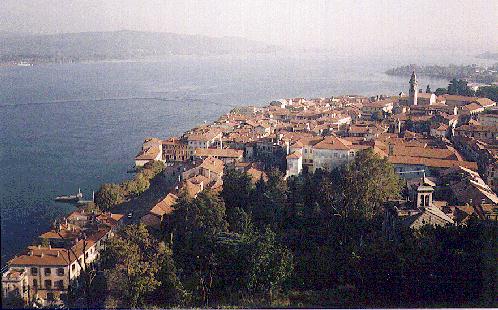 Arona - A view from the rock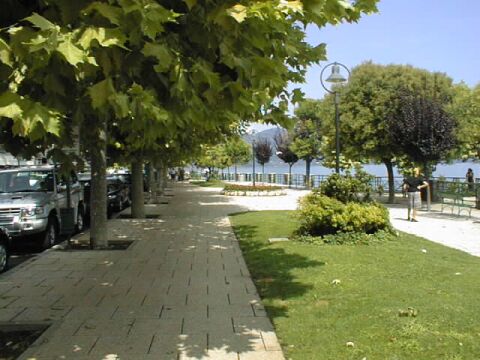 Arona - by the side of the lake



Arona - A view from the rail station


Hotels
Hotel Atlantic
Hotel Concorde
Hotel Florida
Hotel Giardino
For more information about hotels in this town the Google Search is available