Sestiere S. Marco
It's the most central and the older zone of the city, situated between Canal Grande and Mercerie, the street that joins Piazza S. Marco and Rialto bridge. This is the most attended and visited area, and is the cultural and commercial centre of the town. It's imperative to visit S. Marco cathedral and the homonym place.

Piazza S. Marco
S. Marco cathedral:
Built from 829, it's been definitely completed in 19th century. Here there is S. Marco body, carried by Venetians in 828 from Egypt.
The cathedral has been built as Greek Byzantine churches, with a central dome-shaped roof and a cross shape. The most interesting artistic antiques are gold mosaics, which extend over a surface of 149.027,89 ft³; to see also the geometric floors, a lot of sculptures and paintings.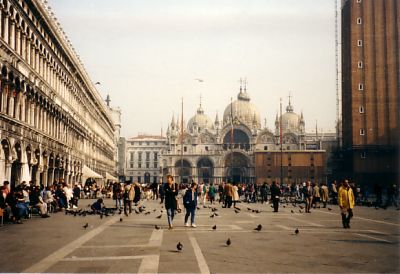 Palazzo Ducale:
Dogi's home, is has been built from 9th to 17th century, in gothic style. Here there were the most important Republic institutions, as the Maggiore and Minore Consiglio.

Procuratie Vecchie:
It is the long building in the northern side of the piazza, built from 12th to 16th century.

Procuratie Nuove:
They are in the southern side of the Piazza S. Marco, and now are the site of Corrier Museum, Archeological and Risorgimento Museum. Under the porches there is one of the most famous coffeehouses of Venice, the Caffè Florian (reorganized in 19th century),

S. Marco Campanile (bell tower):
100 metres high, built in 13th century, it fells in 1902 but was re-built and finally completed in 1912.


S. Stefano church
It's one of the most important religious gothic church if the city. Planted in the end of 13th century from Agostinian hermits, it has been completed around 1450.

Mercerie
It the street joining S. Marco with Rialto bridge, and it was and it is still now one of the roads most full of stores and workshops.

Ponte di Rialto (Rialto bridge)
Until 19th century it has been the only connection between the two sides of the city. It's outlined by two rows of shops, and has been built from 1588 and 1591.